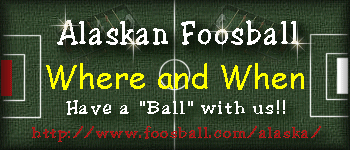 Where and When We Play
As of September 5, 2009 - Points Race:
We play weekly on Saturday nights at 8:00pm for the Winter Points.
Club 210

, is located at 720 Muldoon Road near the 6th Avenue intersection.

When you walk into Club 210, take a right into the bar.

All entrants must be at Club 210 by 8:00 PM in order to qualify for sign-up. If entrants are running late, a phone call is needed.
You can contact Kevin Gates at (907) 727-0319.

Entry fee per entrant is $7.00.

First-time players get handicap points unless it is clear they are talented players. After that, players are rated on ability to play and points are awarded (or taken away) accordingly.

The Points Race ends in sometime in March, 2009 and payouts will be done then.
If we get 6 or more teams, the bar kicks in!!!!
We play the 1st Sunday of every month, but you must bring your own partner.
| | |
| --- | --- |
| | Entry fee = $10.00, and if at least 6 teams show up, the winners will divide $100.00 or more. |
| | Sunday games are also at Club 210. |

Updated: Friday, September 11, 2009
Copyrightę2008 Alaskan Foosball